World-first practical avatar platform, completed a field-ready model capable of remote operation with ultra-low latency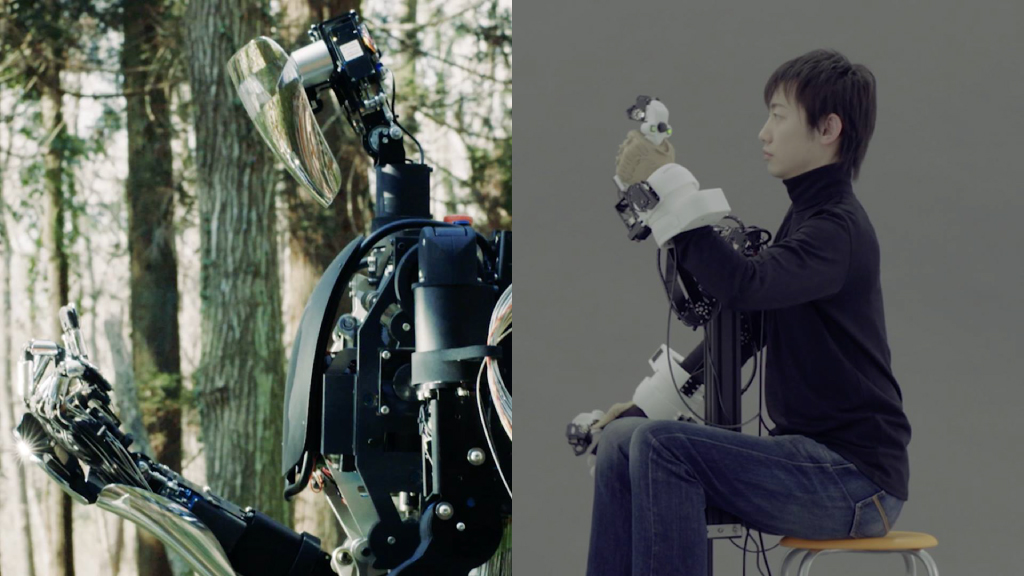 MELTIN MMI (Head office: Shinjuku, Tokyo, CEO: Masahiro Kasuya, hereinafter MELTIN) has developed a real-world model of the world's first practical avatar robot platform, which allows for remote-control communications at ultra-low latency, through joint research with aptpod Inc. (Head office: Shinjuku, Tokyo, CEO: Junichi Sakamoto, hereinafter aptpod).
MELTIN aims to transcend the limitations of physical bodies through its development of cyborg technologies designed to unleash the creativity of human beings. The first step in this process was its development of a practical myoelectric prosthesis. This prosthesis included cyborg technologies that allowed for processing of bio-signals to faithfully replicate the movements of the body and technologies to limit its robotic mechanisms.
"MELTANT-α" is an avatar robot concept that makes use of the knowledge gained through developing this technology. The hand included in MELTANT-α allows for movements that are extremely close to those of the human hand with both strength and delicacy for the first time in the world. It handles complex and flexible tasks that are unthinkable for traditional robots.
Through the combination of MELTIN's cyborg technology and aptpod's rapid IoT technologies, MELTIN has achieved a field-ready model of an avatar platform with world-leading real-time operability of human movements at almost no latency.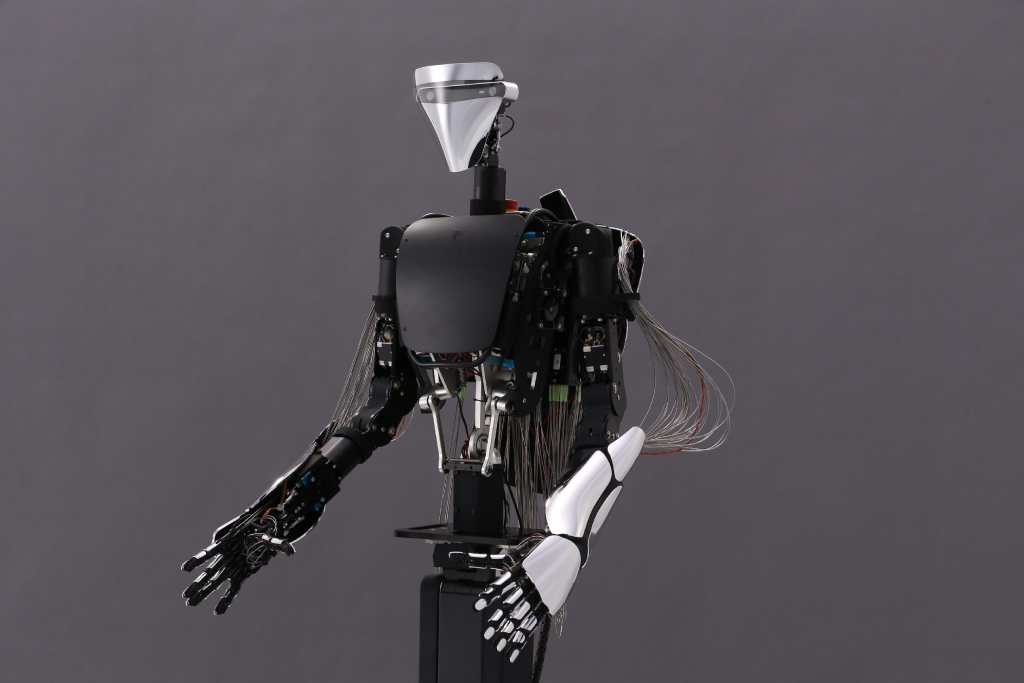 Field-ready avatar platform with ultra-low latency using MELTANT-α × intdash
The avatar robot conducts bidirectional data communication over the Internet between the operating-side human (master) and control-side robot (slave) to control activities. Smooth remote operation cannot be carried out if large time lag occurs in exchanges of operational signals, controls signals, video data, and other data.
To enhance real-time operability in"MELTANT-α", this project built an avatar platform that integrates it with aptpod's "intdash"ultra-fast IoT hub framework for bidirectional transmission developed by aptpod and conducted field tests.
Specifically, the system realized low-latency bidirectional data communications with the smallest possible time lag by promoting optimization and precision refinement of remote operability by storing bio-signals obtained from the operator and operational data, robot control data, and other implementation data in real time in the cloud and repeating feedback loops and machine learning. This is the world's first field-tested model of a practical avatar platform.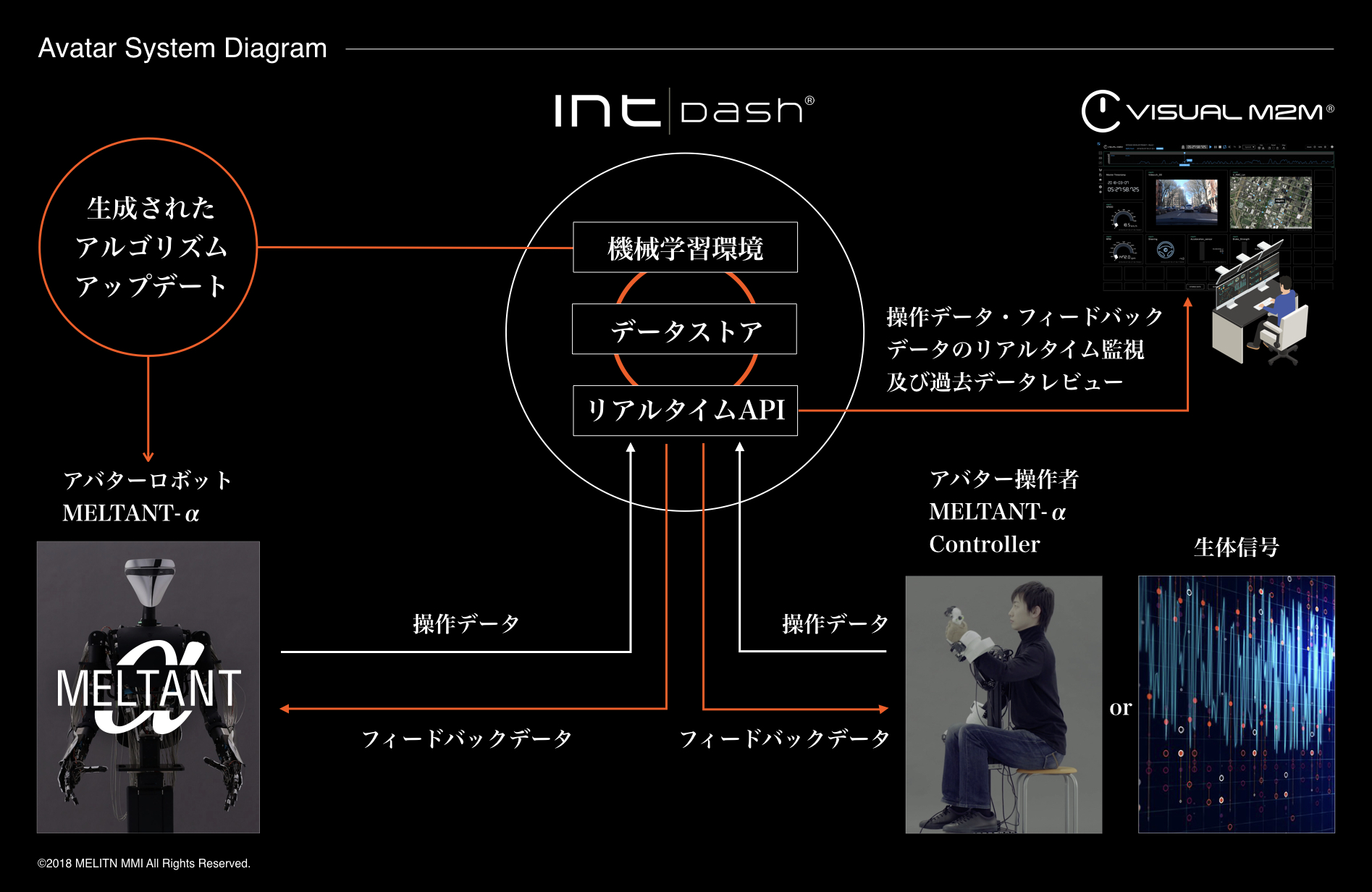 Remote tasks with all types of locations reaching a "practical level" thanks to dramatic improvement in cloud collaboration and real-time operability
The platform also facilitates evolutionary production of an autonomous algorithm through machine learning with consolidated implementation data and creates a virtuous-cycle system flow applied to the master and slave. Meanwhile, as operator skill improves, system efficiency and optimization accelerate and modeling and reutilization of template operational data becomes possible.
Furthermore, among MELTANT-α's excellent quality, power, dexterity, remote operability, real-time operability, durability, and haptics (ability to adjustment power levels via feedback of power sensation, the platform dramatically improves real-time operability and thereby supports "practical-level" remote tasks in a broad range of fields, including dangerous locations for humans, and greatly expands the diversity of applications.
Use Case Examples
Dangerous environments (disaster areas, high altitude, high heat, aquatic, chemical, biological, radioactive pollution, bomb disposal)
Extreme environments (space, abyssal)
Remote work (remote tasks, business trips using avatars, night security)
Tourism/entertainment (avatar)
Agricultural/fishery industries, food production, logistics (agricultural harvesting, collecting marine products, processing, picking)
Medical care/Welfare (nursing, going outside using avatars, remote surgery)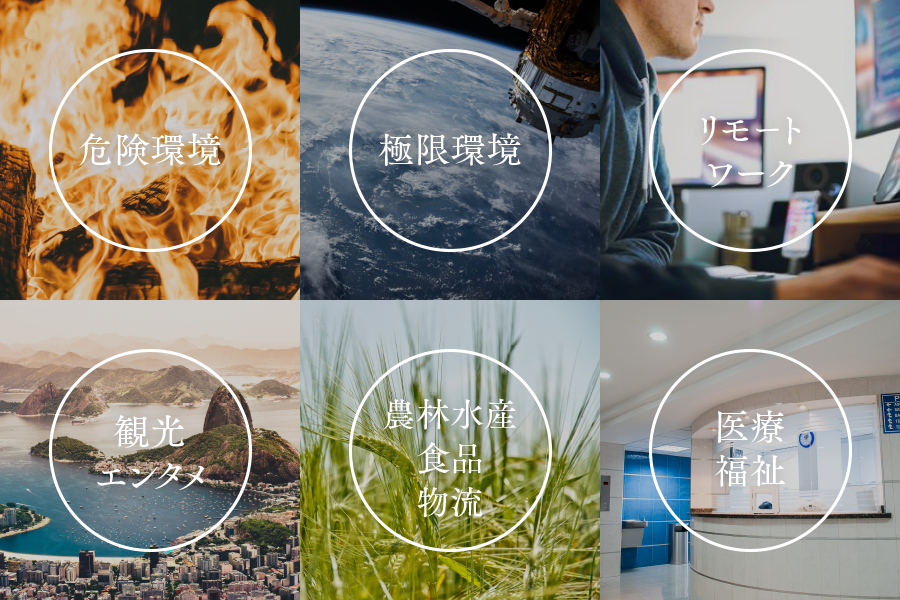 Embodying human creativity through further advances in the platform
Through further advances in real-world use of the avatar platform, consolidation of massive amounts of data, and repeated evolutionary production of the automated algorithm through a feedback loop and machine learning, a wide range of applications and system evolution should become possible, such as automation of the avatar robot, unfettered movement by people with physical handicaps by integrating MELTIN's bio-signal processing technology, and simultaneous control of multiple avatar robots.
Appearance at AWS Summit Tokyo 2018 and MELTANT-α demonstrations
MELTIN CEO Masahiro Kasuya and aptpod CEO Junichi Sakamoto will appear in the same session at AWS Summit Tokyo 2018, one of Japan's largest cloud computing conferences hosted by Amazon Web Service (AWS), and make an announcement and give updates on this joint effort. Additionally, MELTANT-α will be displayed at the aptpod booth and conduct demonstrations of the avatar platform.
AWS Summit Tokyo 2018 Details
Dates: May 30, 2018 (Wednesday) to June 1, 2018 (Friday)
Location: Grand Prince Hotel New Takanawa (International Convention Center Pamir, Hiten Main Banquet Hall)
Website: https://www.awssummit.tokyo/tokyo/
Relevant Session
"World of IoT for High-Speed Interactive Data Streaming from Robotics to Automotive"
Scheduled at May 30 (Wednesday) 2:00-2:40pm (Pamir 1F)
Download: News release PDF(442kB)
---

MELTIN MMI
MELTIN MMI is a research and development venture that aims to create cyborg technologies that incorporate bio-signal processing and robotic technologies, allowing humans to transcend their physical forms and creating a world where humans can live happily and freely.
Loy Krathong Yotsuya 3F 1-18 Funamachi Shinjuku-ku Tokyo
Website: https://www.meltin.jp/
[Inquiries]
Public Relations: Iwata, Yasuda
Tel: 03-6427-6397
E-Mail: inquiry@meltin.jp
---

aptpod, Inc.
aptpod developed a high-speed data hub server for industrial applications utilizing rapid IoT technology. It realizes low-latency end-to-end data transmission and comprehensively provides server-side sequential data processing, such as data storage, real-time processing, analysis, and machine learning.
Yotsuya Tosei Building 5F 4-3 Yotsuya Shinjuku-ku Tokyo
Website: https://www.aptpod.co.jp/
[Inquiries]
Public Relations: Takeda
Tel: 090-3102-3659
E-Mail:yuki@aptpod.co.jp